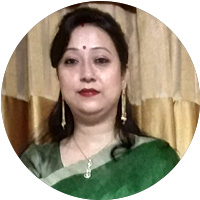 Rainbow Kidveda Jalukbari centre was established in April'2013. Since the inception of our centre, Kid Veda brand has been a great support in the progress of our school. The brand understands the requirements of the present day curriculum due to which we are able to mould our children and cater to the need of today's kids. The brand Kid Veda helps and maintains an overall growth of not only it's centres but also it looks after the development of the valued teaching faculties of their franchisee centres. Timely trainings and award ceremonies are conducted for the teaching fraternity which encourages them to grow in every aspects. We are proud to be associated with KidVeda and hope to carry on our association in future also.
Mrs. Prity Sabhapandit, Centre Director,
Kid Veda Jalukbari Centre
I find the name Kid Veda synonymous with Support, Assistance, Patronage and Encouragement. A brand that reverberates with trust, co-ordination and good will. The inhibitions and apprehensions that one fears at the start of owning a franchise is immediately allayed by the very co-operative and ever supportive clan of individuals clubbed together under the initiative of introducing a unique teaching learning experience which is a class apart from the mundane ones. The team at the centre deserves thumbs up for lending a patient ear to the many queries and suggestions of the center owners. Proud to be a franchisee of Kid Veda.
Mrs. Karabi Bharali, Centre Director,
Kid Veda Nagaon Centre
Teaching has always been a passion for me. Through Kid Veda this passion has turned into a reality. Getting involve with a little kid and enabling him/her to learn something is one of the difficult task. But after coming to the Kid Veda family this difficult task seems to be a smoother one. Kid Veda has also made me to learn many things in one way or the other which helped me a lot.
Mrs. Priyanka Dutta, Centre Director,
Kid Veda Odalbakra Centre